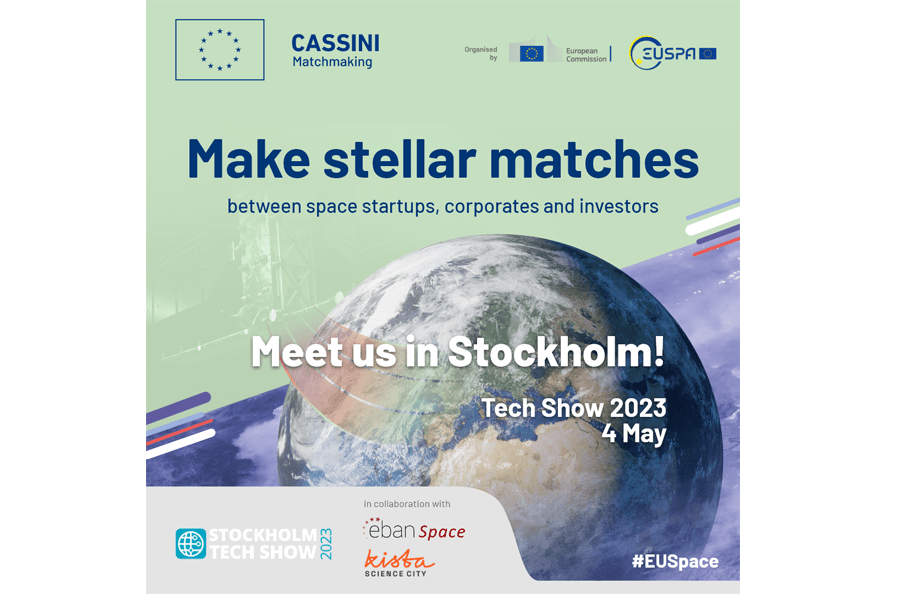 Where
Kistamässan
Arne Beurlings Torg 5, Kista, Sweden, 16440
Join us for the CASSINI Matchmaking event, "Exploring the EUSpace ecosystem,"
organized by Kista Science City, the European Commission, and the City of Stockholm.
You can look forward to a day of space technology, where space startups and
scale-ups will pitch their innovative solutions on stage.
Learn about the latest developments in the space ecosystem and discover new business opportunities in the industry.
The event is taking place on the Startup and Innovation Scene during Stockholm Tech Show.
Register to get your free exhibition pass to the STOCKHOLM TECH SHOW
AGENDA
9:00 Welcome by Staffan Ingvarsson, CEO Stockholm Business Region,
Karin Bengtsson, CEO Kista Science City and Daniela Dobreva-Nielsen, CASSINI Matchmaking
9:10 European space ecosystem, Tomas Jonsson, EC DGDEFIS
9:20 Panel – New business opportunities
– William Johansson, Innovation Lead, Swedish Space Corporation
– Ted Elvhage, Managing Partner, Rymdkapital
– Hannes Eder, Business coach, KTH Innovation
9:50 Paus
10:00 Startup pitches
11:00 Panel – Exploring opportunities in space
– Fredrik Sjöberg, Deputy Managing Director, OHB Sweden
11:20 Paus
11:30 Startup pitches
12:00 Lunch Break
The morning session will be moderated by Linda Krondahl and Constantin Backmann,
CASSINI Matchmaking.
In the afternoon, participants have the opportunity to preschedule 1-1 meetings across startups, corporates and investors.
To attend to the CASSINI Matchmaking event, please register via the link below,
JOIN AND REGISTER
CASSINI Matchmaking is an initiative by the European Commission, accelerating the growth of European space industry.